Finding a buyer for your boat can be a time-consuming, frustrating and stressful experience.
Let Pacific Boat Brokers put cash in your pocket and a smile on your face.
We've been doing it for over 20 years!
When you list with us, we get to work...
Creating Your Pacific Boat Broker Listing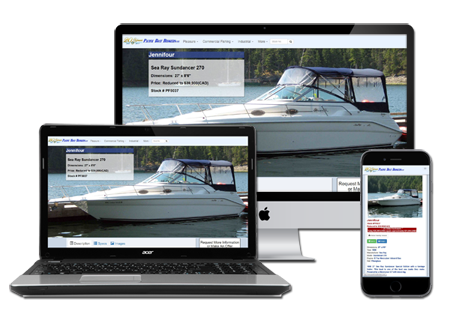 When you agree to list your boat with one of our brokers, they will inspect the boat, make presentation recommendations, take high quality photos, and ascertain all of the pertinent listing information.
Once the boat has had a thorough going over, a fair market value can be determined.
Pacific Boat Brokers
has more than 10 brokers and over two decades of sales data to draw from in order to determine a current market evaluation of your boat.
Pacific Boat Brokers
newly redesigned listing advertisements put your boat front and center.
A full description, specifications and all images are viewable on a single page.
You don't have to sign up to see images
. It's all there.
Online Marketing
In addition to posting your vessel for sale on PacificBoatBrokers.com, we generate maximum exposure for your boat by also listing on the following highly visible websites:
Yachtworld.com, Boats.com, Craigslist, Used.ca and Boatdealers.ca
Print Advertising
Pacific Boat Brokers also promotes prominently in many high exposure maritime magazines including:
Western Mariner, Pacific Yachting, Pacific Fishing, Boats & Harbors, Western Maritime, Black Press, Island Fisherman, and Island Angler

Email Marketing
Hot News Sheet
Every week, new and updated listings are sent out in the Hot News Sheet to thousands of engaged subscribers and boating enthusiasts.

Search Engine Optimization
Without getting all techie, the search engine optimization process is as follows:
Using specialized tools and industry experience, Pacific Boat Brokers determines the most highly searched keywords associated with your particular vessel.
We then create eye-catching headlines and descriptive text using the optimal keywords that will get your boat to the top of search rankings and in front of the right buyers.

Best of all:

Pacific Boat Brokers charges no fees unless your vessel sells.

Email or call for a no obligation conversation about your vessel:

Email Us

or

1 877 448-0010